HOUMA-THIBODAUX AREA

TO SEE ALL THE EVENTS POSTED IN THIS AREA, JUST SCROLL DOWN ALL THE WAY TO BOTTOM. (Events not in date order.)
GOT A MULTI-PARISH LOUISIANA CATHOLIC EVENT YOU WOULD LIKE LISTED? PLEASE SEND YOUR MULTI-PARISH EVENT TO louisianawim@protonmail.com
DIOCESAN "BAYOU CATHOLIC" publication, click here.
HOUMA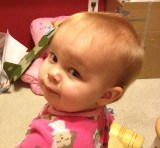 FOLLOW ME TO THE LIFE CHAIN

For more information about this Life Chain or to start one in your parish, call: 985-804-1505
MATTHEWS
MASS AND HEALING SERVICE
on Wednesday, October 12, 2022
at St. Hilary of Poitiers Catholic Church
333 Twin Oaks Drive (behind Ochsner-St. Anne Hospital)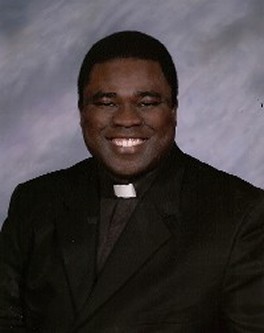 Presider: Fr. Anthony Odiong
(from St. Anthony Parishin Luling)
Confessions - 5:00 pm
Mass - 6:00 pm
Healing Service - 7:00 pm
HOUMA & CHAUVIN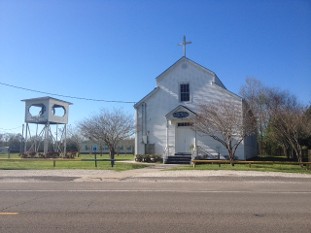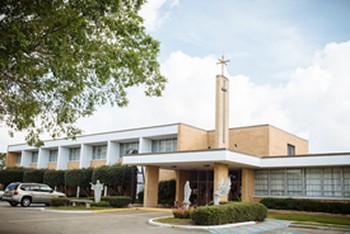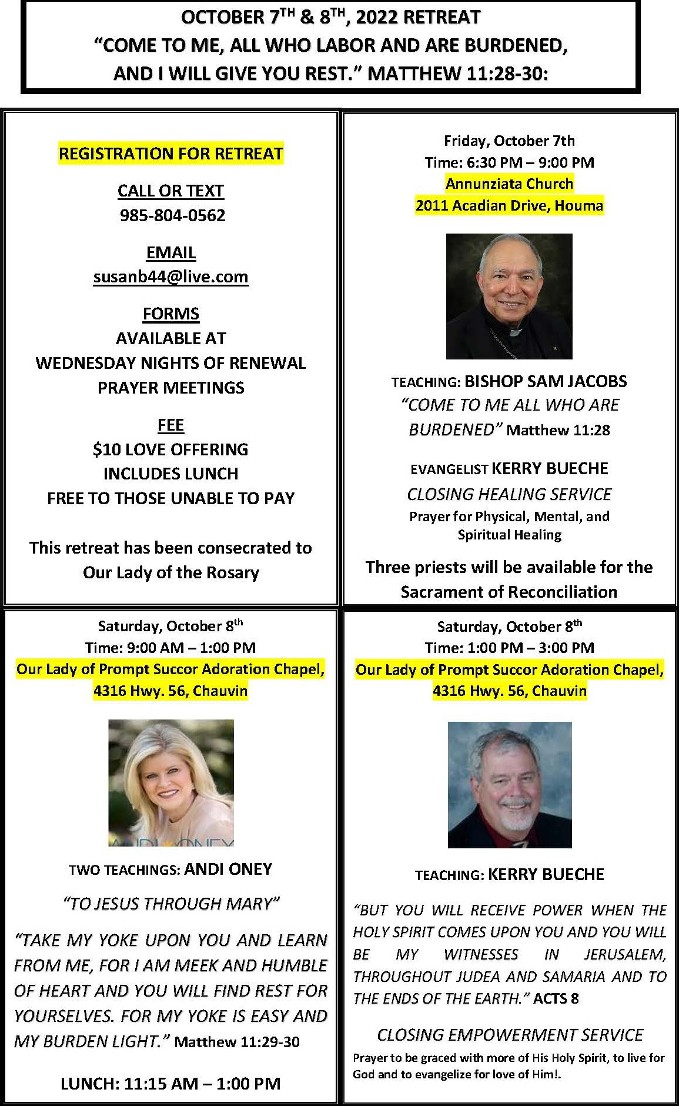 AMELIA
PAX CHRISTI MINISTRY HEALING MASS AND SERVICES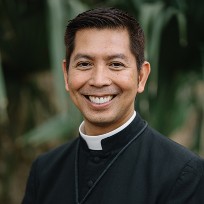 Fr. Robert-Joel Cruz
St. Andrew Catholic Church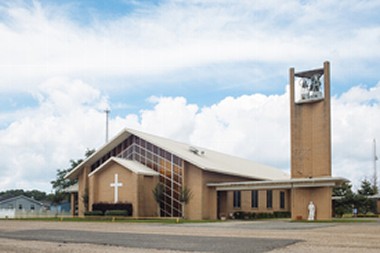 Dates scheduled at this time at St. Andrew Catholic Church
Sunday, October 23, 2022 (3:00 pm) - Healing of Families, Healing of Relationships, Healing of Generations - longer service than usual, starting at 2:30pm with Family Helping List
Thursday, November 10, 2022 (Rosary at 6:30 pm and Mass at 7:00 pm)
Thursday, December 15, 2022- Mass of the Anointing of the Sick (Rosary at 6:30 pm and Mass at 7:00 pm)

Thursday, January 12, 2023 (Rosary at 6:30 pm and Mass at 7:00 pm)
+ This healing ministry travels to other parishes when invited.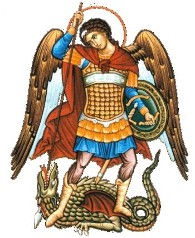 The Course on Angels and Demons: Continuation on the Hierarchy of Angels is expected to resume in 2023 on Thursdays, 6:30pm-8:30pm
February - TBA
March - TBA
April - TBA
Please call the Office of the Ministry of Healing and Liberation to get more information and to register, 985-232-2229 or to visit their webite, please click here.

THIBODAUX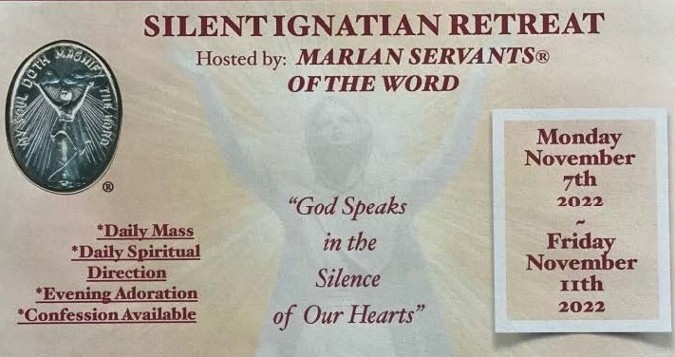 THIS RETREAT IS FOR WOMEN AND MEN!
Retreat is at Lumen Christi Retreat Center in Schriever, LA
For information on the Marian Servants or the cost of or more information about the retreat or to register, email marianservantsoftheword@gmail.com or call Monica Karnes at 985-688-5578 or Sadie Bonvillain at 985-688-9938.
THIBODAUX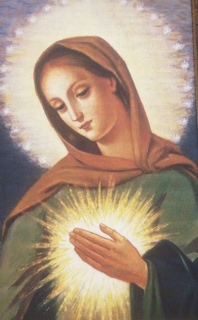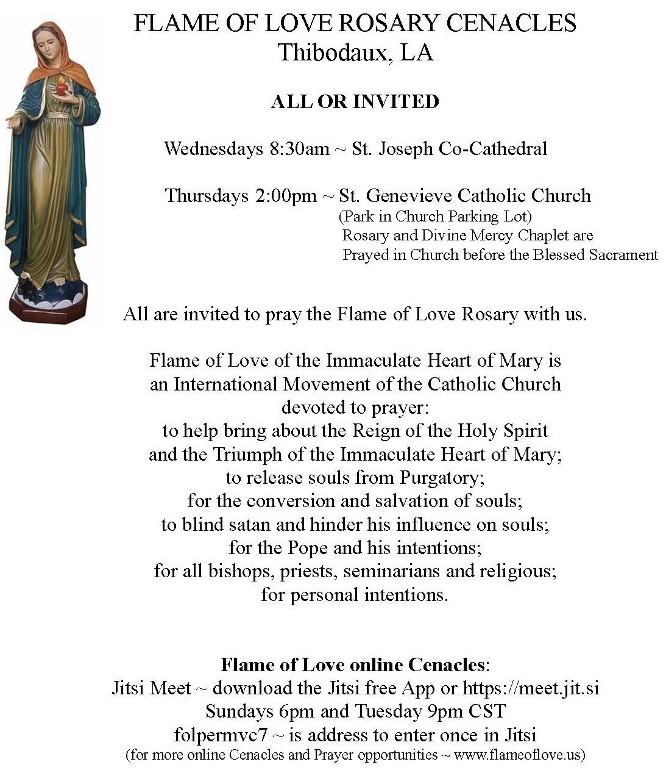 To find out more information about the Flame of Love movement click on: https://flameoflove.us/
HOUMA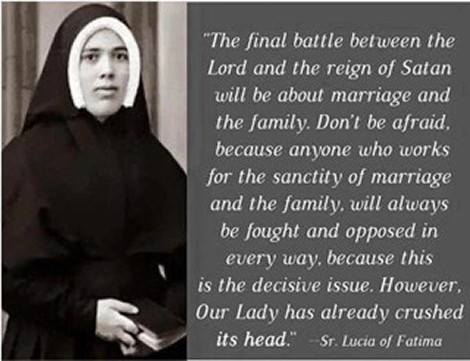 WEEKLY EUCHARISTIC ADORATION FOR THE FAMILY
Join the Maria Immacolata Parish Family in its time of weekly Family Eucharistic Adoration. Adoration is each Wednesday from 5:00 pm until 7:00 pm. Ends with the Benediction. Confession is available. Closes with Benediction.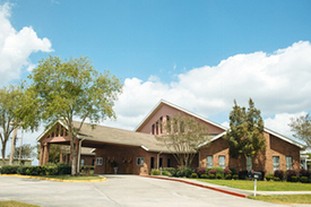 Maria Immacolata Catholic Church
(Due to damages to the church caused by Hurricane Ida,
all church activities are in the Parish Hall.)
THIBODAUX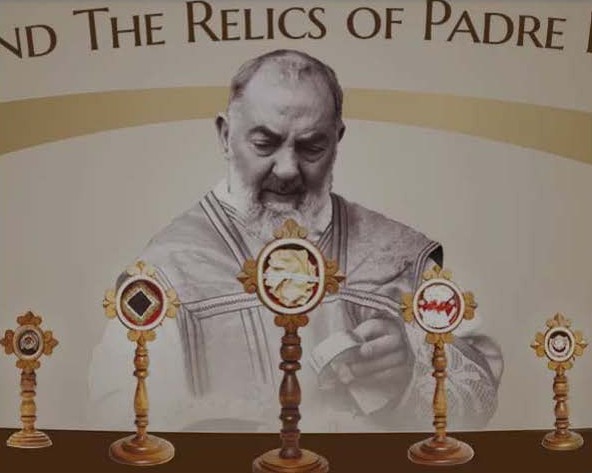 CHRIST THE REDEEMER
CATHOLIC CHURCH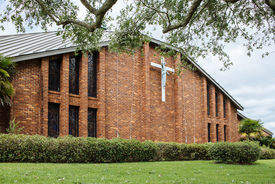 Wednesday, November 16, 2022: Christ the Redeemer Catholic Church, located at 720 Talbot Avenue, Thibodaux, LA 70301

Starting/Ending: 9:00 A.M. to 8:00 P.M. Mass in honor of Padre Pio at 12:05 P.M.

Please, contact the parish at (985) 447-2013-4183 or email to ctrchurch@htdiocese.org

To learn more about the St. Pio Foundation and all it has to offer, please click here.
THIBODAUX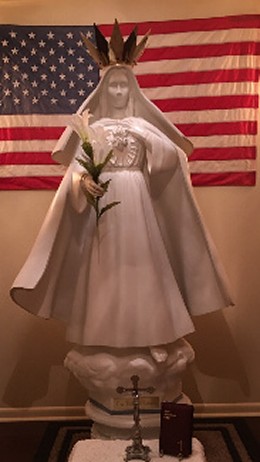 OUR LADY OF AMERICA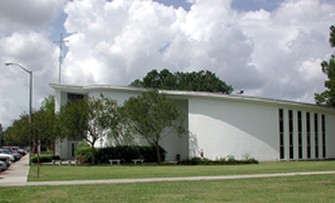 Rosary prayed to Our Lady of America for America each Monday beginning at 3:00 pm. Feel free to join the group on any Monday.
Consider planning a pilgrimage to Our Lady of America statue at St. Thomas Aquinas Parish on Nicholls State University campus in Thibodaux, LA. For information on how to do that, please click on the page on the legend titled "Louisiana, Life and Our Lady of America".
HOUMA
SHRINE OF OUR LADY OF COMPASSIONATE PROTECTION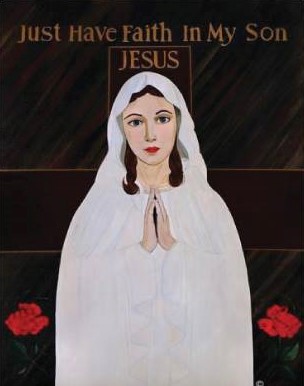 OUR LADY OF
COMPASSIONATE PROTECTION
On Saturday, August 17, 2022, in addition to the Mass, there will be a dedication of a new statue dedicated to Our Lady. All are welcome!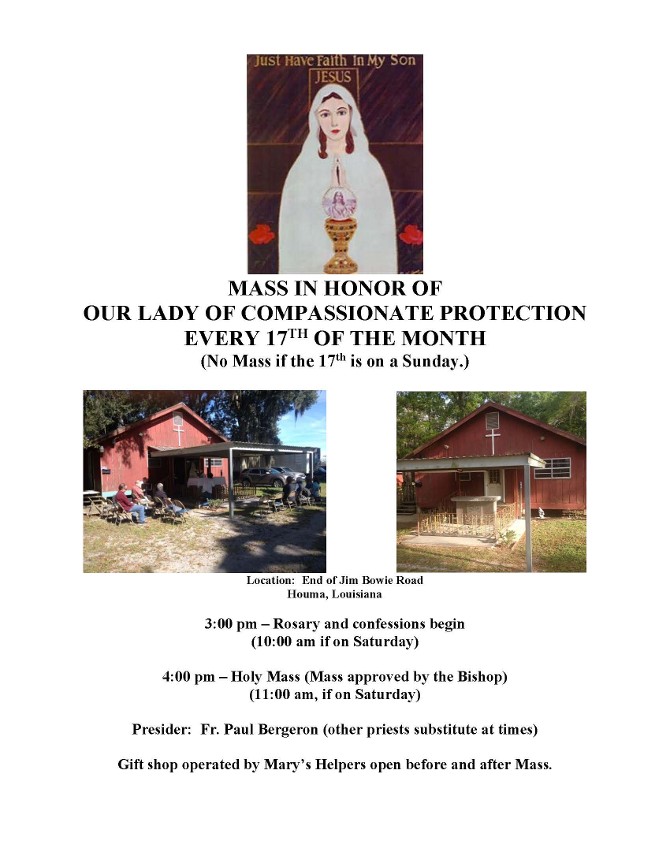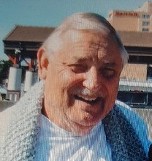 Celebrant: Fr. Paul Bergeron
Need more information, please contact Mary's Helpers
4512 7th Street
Marrero, LA
Phone: 504-348-7729
or email louisianawim@protonmail.com
To visit Mary's Helpers website, click here.

MORGAN CITY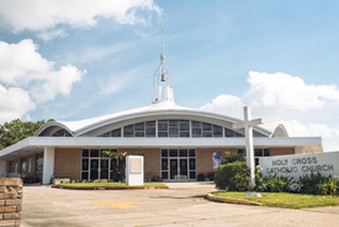 HOLY CROSS PARISH
Praise and Worship and Fellowship each Thursday evening after the 5:30 pm Mass. Group meets in Parish Hall. Meeting usually ends before 7:30 pm.

All are welcome! Please come and join Holy Cross Parish in this time of prayer, sharing and fellowship!

HOUMA
UPPER ROOM PRAYER CENACLE
EACH FIRST SATURDAY AT OUR LADY OF COMPASSIONATE PROTECTION MASS SITE
Note: The Upper Room Prayer Cenacle location at Our Lady of Compassionate Protection Mass Chapel were miraculously spared physical damage from Hurricane Ida.

If you would like directions to this site, please email: louisianawim@protonmail.com
For information of the importance of First Saturday obligation as requested by Our Lady, start by clicking here.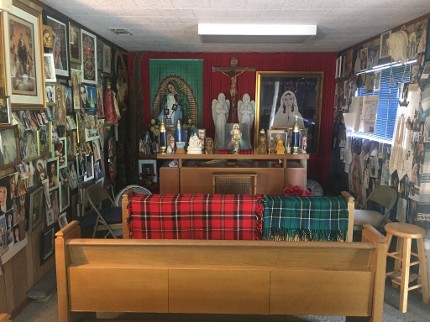 SHRINE AND UPPER ROOM PRAYER CENACLE CHAPEL
Doors open at 2 pm and prayer begins at 3 pm on each First Saturday. Cenacle completes by 4:30 pm.
Agenda:
Starts at 3 pm with Prayer to Guardian Angel of America
Angelus
Rosary (Glorious Mysteries)
Litany of Loretto
Consecration to Our Lady
Reading from Messages to Fr. Gobi
Private prayers for healing continue as required.
Please note: There is no Mass and no scheduled Confessions at the Cenacle. Please attend to your First Saturday Mass and Confession obligations earlier in the day at a parish of your choice.
Full directions to the site can be emailed to you or if you want more information about the Upper Room First Saturday Prayer Cenacle, please contact Paul at louisianawim@protonmail.com.
All are welcome to each First Saturday Prayer Cenacle dedicated to Our Lady through all Her titles. If you like, bring an image of Our Lady that appeals to you or there are images there as well you can pick from.
For more information about activities at the shrine site contact Mary's Helpers in Marrero, LA, please click here.
HOUMA/GIBSON/AMELIA
While reading below, listen to Laura Huval from Cecilia, LA, click here.
Schedule a swamp pilgrimage in 2022. School, youth groups, CCD classes can begin booking Fall 2022 swamp pilgrimages.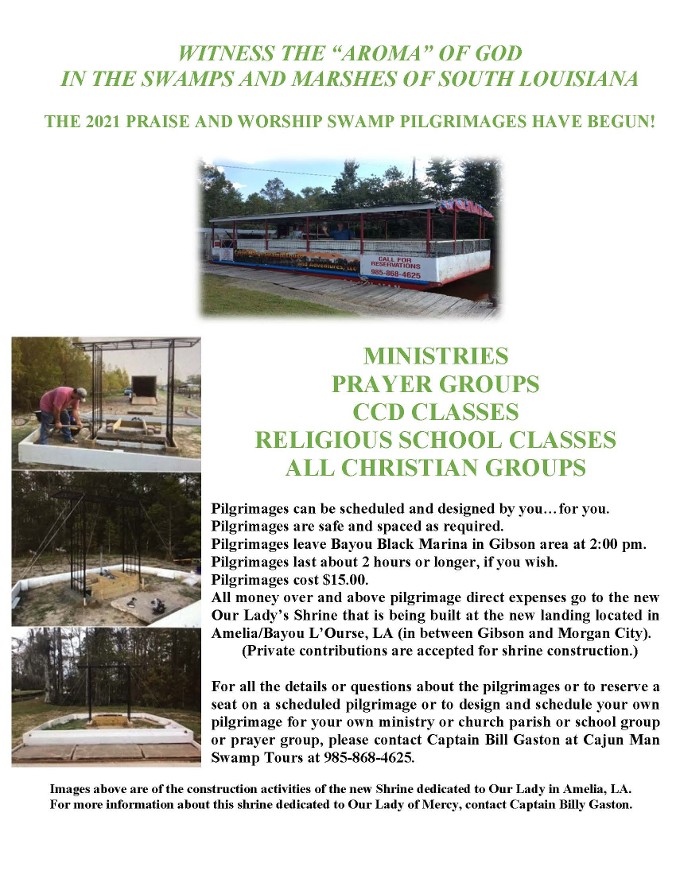 HOUMA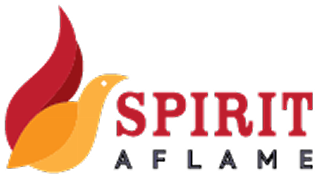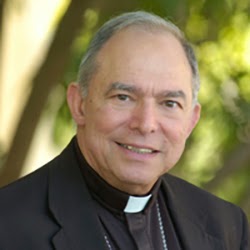 BISHOP SAM JACOBS, EMERITUS
Bishop Sam Jacobs was ordained to the priesthood for the Diocese of Lafayette in 1964 where he served as pastor, chaplain, and associate pastor of several parishes there and also in the Diocese of Lake Charles. He has served as chairman of the National Service Committee for the Charismatic Renewal and diocesan director of Vocations and Seminarians for the Diocese of Lake Charles. Bishop Jacobs was appointed the tenth bishop of Alexandria in 1989 and was installed as the third bishop of Houma-Thibodaux in 2003. He retired in October of 2013 and is now the bishop emeritus of Houma-Thibodaux. He celebrated 50 years of priesthood on June 6, 2014, and marked 25 years of episcopacy on August 24, 2014.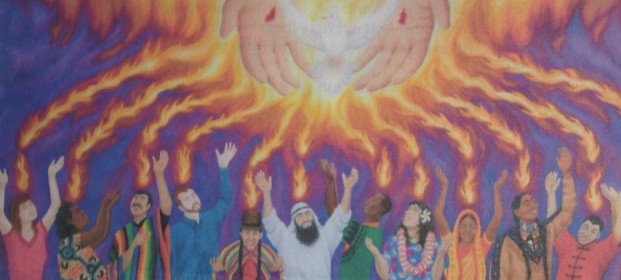 ACTS 2:42
"They devoted themselves to the teaching of the apostles and to the communal life, to the breaking of the bread and to the prayers...Every day they devoted themselves to meeting together (Acts 2:42, 46)
To go to Bishop Jacobs' site SPIRIT AFLAME blog site and receive the newsletter and much more, click here.