BRIEF HISTORY OF THIS SITE
This website began in sometime in 1996 as a short broadcast after the radio program called the Hour of Mercy that was produced in Houma, Louisiana that aired on Radio Maria in Alexandria, Louisiana during the mid-1990's. The Spiritual Director for that program was Fr. Duane Stenzel, OFM. Varying numbers of events were used to fill in certain amounts of time after each program. Many contributors to the Hour of Mercy have gone on to contribute to other programs on Catholic Radio across Louisiana - even to the present day.

As Fr. Duane moved to Alexandria, LA and become more involved in Radio Maria and the Hour of Mercy program came to an end, it seemed that there was a continuing need to inform Catholics about meaningful events that were multi-parished in nature that otherwise they might not know about. What started out as a filler-of-time continued on. It had been discovered that many Catholics did not find out about many unique and interesting events that were in their own home areas (much less out of their home area) until after those events had happened. A blog was then commenced to attempt to meet that specific informational need. In 2014 that blog no longer met the expanding requirements of the increasing numbers of followers of the site and the questions being asked. Followers were/are not only Catholics but other Christians as well.

Catholics across South Louisiana expressed a desire and need to network not only in regard to upcoming events but over other matters of faith. Since "Time is of the Essence" in many those matters, the Spiritual Bulletin Board of Louisiana became a full website in 2014 that could be accessed 24/7 to aid in networking with others.

Once its publisher served the Diocese of Houma-Thibodaux as its Volunteer Lay Coordinator of Evangelization for two Bishops beginning in 2013 (Bishop Sam Jacobs and Bishop Shelton Fabre), this website and its network of people and other websites expanded greatly as a useful tool to develop relationships between Louisiana Catholics and other Christians of like mind and faith across the State of Louisiana. It has continued to grow and become a serious part of the "Remnant" work throughout Louisiana. It now has developed into a network hub that works (mostly) quietly to carry out numerous Random Acts of Faith across Louisiana and America. Honestly, this model could be developed in each State across America.
This website has never been monetized to collect any funds on this site. This website is only for exchanging information between parties.
DISCLAIMER
This website is constructed and produced from Houma, LA that is within the land area (but increasingly the water area) of the Houma-Thibodaux Diocese of South Louisiana. At times, it supplies links into third party websites/pages authored and published by the Houma-Thibodaux Diocese and/or other Louisiana dioceses and/or other Catholic social media sites of interest - generally in Louisiana. This website (by its personal authoring of certain pages within this website) does intend to reflect only the personal thoughts, reflections, views and/or opinions of the owner, constructor and producer of this site (Paul Maclean).
Such personal authorings of certain pages are not intended to publicly reflect the personal thoughts, reflections, views and/or opinions of the Houma-Thibodaux Diocese and/or any other Louisiana diocese and/or any other website of interest and/or any other person anywhere in the whole-wide-world. The owners of the websites/pages linked into by this website will author and publish what they want, when they want, and will in-fact speak for themselves by what they personally author and publish on their own websites.
The mission, desire and intent of the Spiritual Bulletin Board of Louisiana is:
1. To unite and network the Roman Catholic Church and other Christians of Louisiana to evangelize all others throughout the world during this New Millenium and with new available technologies - not to divide the Church Militant. Additionally, always to do the same in conjunction with all other Faithful Christians - first in Louisiana.
2. To always be faithful to the Truth that is Jesus Christ.
3. To help spread the true teachings of the Roman Catholic Church to all visitors of this site.
Anything on this page that may inadvertently contradict and/or hinder that mission, intention or purpose is absolutely unintended and willingly renounced. "In other words, sorry about that!"
NOTICE
Should one be interested in any certain event, before attending, please do your own due diligence as to determine whether that certain event remains scheduled as to the time and date publicized on this site. At times, organizers will notify this site when an event is rescheduled and then at other times (with no notice to this website whatsoever) cancel that certain event. Especially if it is out of your immediate area. Check it out before you attend!
REQUEST
Should your website and/or social media link be shown on this site so that the visitor can gather more information about your mission and/or purpose, please consider keeping it CURRENT with information that is timely. Visitors will go to your website/page in an effort to get timely information that is important to them. Do not disappoint them.
IN SUMMARY
This website is simply a way to attempt to address what was stated in the Introduction to Ralph Martin's & Peter Williamson's book titled: John Paul II and the New Evangelization where the following was written by the Bishop of the Houma-Thibodaux Diocese:
"While the message of evangelization is always the same, the audience is different: the world is different; cultures are different; tools of communication are different. Because of these differences there is need to proclaim the same Jesus to all peoples in a new way with greater zeal, ardor and clarity, using modern means of communications whenever possible." -Bishop Sam Jacobs-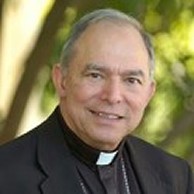 Bishop Sam Jacobs (Emeritus)
To visit Bishop Jacobs' blog site, click here.
Fr. Duane Stenzel, OFM provided spiritual direction to the publisher of this website for 19 years (as well as many others connected to activities mentioned throughout this website). Fr. Duane died and was buried in Alexandria in 2011. Through memories and inspirations, he still inspires and directs.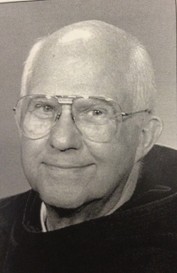 Fr. Duane Stenzel, OFM
To see the good fruit of his work at Radio Maria and to listen to his archived programs, please click here.
Thanks for visiting this website.
Come back often!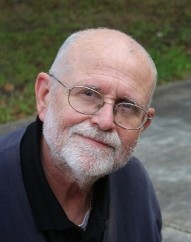 Paul Maclean,
Author/Publisher
Houma, LA
Telephone: 985-856-5345
Email: louisianawim@protonmail.com