LOUISIANA, LIFE AND
OUR LADY OF AMERICA

(To learn more about Our Lady of America, please click here.)
(To learn even more about Our Lady of America, please click here.)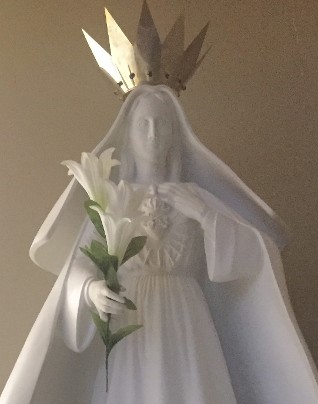 Louisiana Loves Life!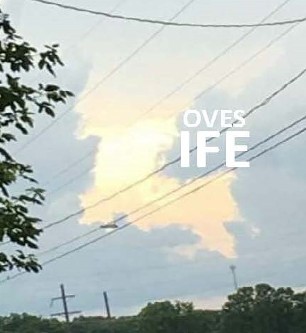 Received from unidentified sender, believed photographed in New Roads, Louisiana area in 2016
LOUISIANA VOTED LIFE AND THE LOVE LIFE AMENDMENT HAS PASSED!
To see 1998 Cindy Jacobs' prophecy to South Louisiana, click here.
Please read and pray with Deuteronomy, Chapter 30. Especially Verse 19:
"I call heaven and earth today to witness against you: I have set before you life and death, the blessing and the curse. Choose life, then, that you and your descendants may live,"
THE NEXT STEP:
OUR LADY OF AMERICA REQUESTS ALL THE PEOPLE OF LOUISIANA TO BE A "LIFE-LIGHT" TO AMERICA IN THIS TIME OF "DARK WINTER". LET HER MESSAGES FOR PURITY AND TRUTH BE THE ANSWER TO BRINGING LIGHT BACK INTO THE DARKNESS OF THE COLD WORLD!
PLEASE CONSIDER MAKING A PILGRIMAGE TO VISIT THE ORIGINAL STATUE OF OUR LADY OF AMERICA DISPLAYED AT ST. THOMAS AQUINAS CHURCH ON NICHOLLS STATE UNIVERSITY CAMPUS IN THIBODAUX, LA. VISIT THE STATUE AND BE INSPIRED TO DO WHAT SHE IS CALLING YOU TO DO IN THIS RACE FOR LIFE!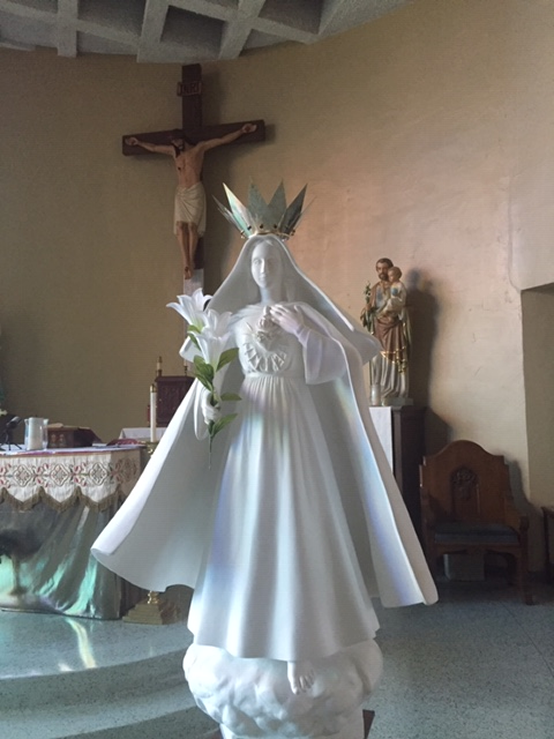 This statue is open for viewing by pilgrims at these times:
Monday through Friday from 7:00 pm - 9:00 pm
Saturdays from 10:00 am - 3:00 pm
Sundays from 12:00 pm - 6:00 pm
For pilgrimages with 8 or more persons, please call and schedule a time to visit the church. To obtain information about scheduling a pilgrimage and/or to get any information about these pilgrimages, please telephone: 985-447-3749.
After praying to Our Lady of America in the church, please consider visiting the Two Hearts Perpetual Eucharistic Adoration Chapel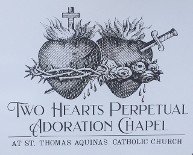 alongside the church or attend Mass at St. Thomas.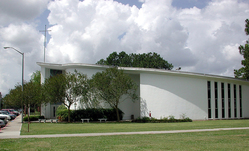 For the parish Mass schedule, chapel information and/or all other general information about the parish, click here and/or here.

Prayer groups, families, individuals...all Catholics and non-Catholics are welcome! All are Her Children! She is the Mother of All! She brings all Her Children to Her Son!
To read about the 2020 Louisiana Holy Water Blessing of America, please go to this website's page titled "Louisiana - Holy Water Blessing". "Our Lady of America" through that title and this statue, in particular, helped to inspire that particular Random Act of Faith in 2020 that began in Louisiana in January of 2020 that spiritually impacted America at this critical time. Please go to that website page and read about it what was done in 2020 and 2001!
It is indeed a tearful matter to turn toward the curse of death. When so doing, we not only cause the death of a great nation, and of others, but our own personal eternal death as well. Let us muster the strength through Grace to move to "Reverse the Curse" of death and instead turn toward the "Blessing of Life". St. Joseph, Terror of Demons, please pray that through intercession to you and service we can "Reverse the Curse" of death.
We have a race to run in Louisiana in the name of LIFE! This current race officially started on 09.09.2020 for the Memorial of St. Peter Claver.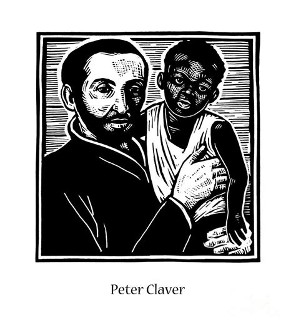 It is a Race for Life! Run it well!
Many souls depend on you to act in your particular area of influence!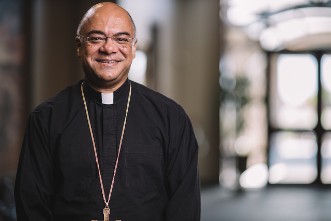 Bishop Shelton Fabre (Bishop of the Diocese of Houma-Thibodaux) shared and challenged all of us to a day of prayer and fasting on September 9, 2020 in the name of St. Peter Claver (a saint dedicated to the serious "Life" issues of his time). For what Bishop Fabre has to say about that, click here.
The Spiritual Bulletin Board of Louisiana is requesting that you continue to pray and fast and listen to God. There is no reason to cease those actions (at levels appropriate for you due to your age and health needs) as we have moved past November 3, 2020 into a new time.

There are many issues of Life that each face from conception to death. One particular issue had a very important "action date" of the 3rd of November in Louisiana in 2020. We came together as a State to get this underlying issue of "Life at Conception" established by amendment. Without this underlying issue being addressed to its fullest, the other issues of LIfe can never become a reality to a "person" conceived in time. As a State we understood that and moved to Life.

November 3, 2020 was the Memorial of St. Martin de Porres!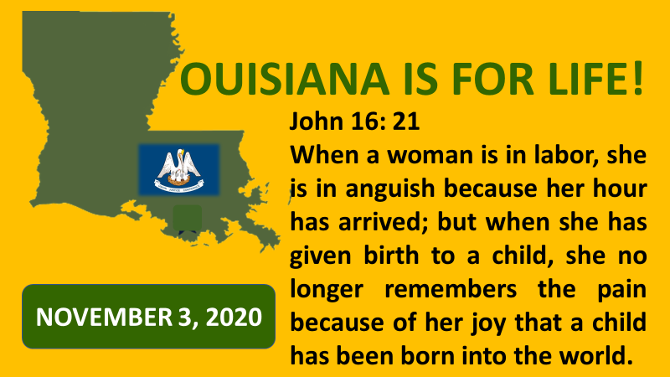 LOUISIANA LOVE LIFE AMENDMENT
WAS PASSED!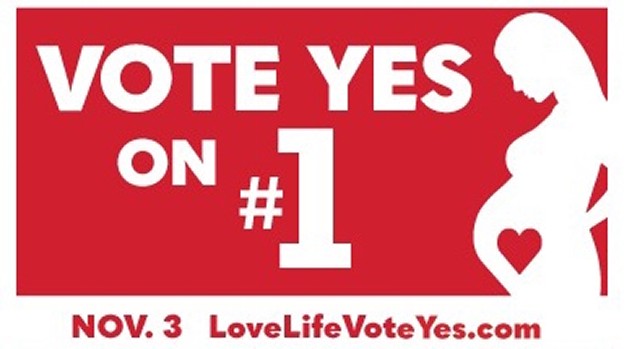 For all information on the Love Life Amendment, THAT WAS PASSED on that day and much more, click here.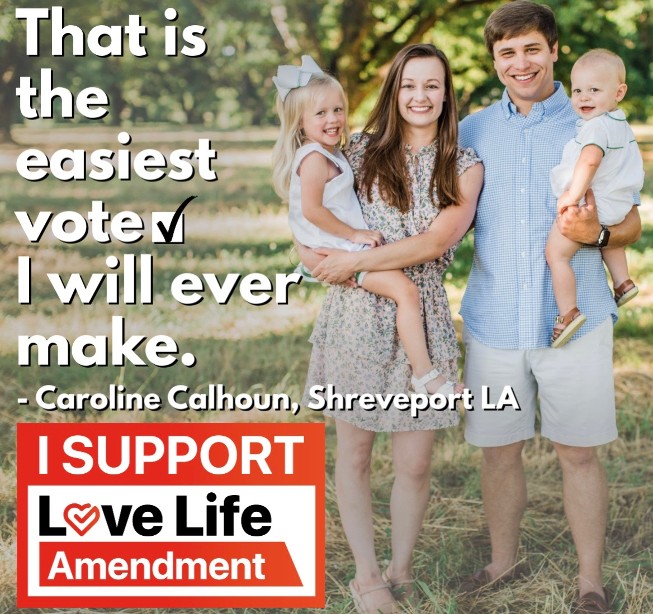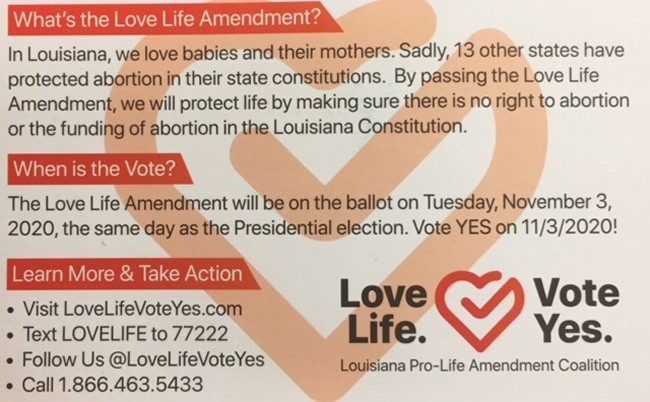 THE LOUISIANA BISHOPS SUPPORTED THE LOVE LIFE AMENDMENT TO THE STATE CONSTITUTION VOTED ON THAT DAY! The Louisiana Conference of Catholic Bishops strongly supports the Love Life Amendment, which would successfully amend the Louisiana Constitution and thereby continue to strengthen our commitment to end abortion in our state. Citizens of our state will have the opportunity to affirmatively state that they "Love Life" on November 3–the same day as the United States presidential election–by favoring this amendment. As Catholics, we are called to ensure that life is indeed valued and that the dignity of all is upheld. This is the foundational principle of our social teaching and must be intentionally considered in all that we do. Passage of the Love Life Amendment would have a dual effect.
Primarily, the passing of that amendment ensured that the State of Louisiana cannot establish a right to abortion.
Secondly, it prohibited the funding of abortion through taxpayer dollars within our constitution. Without such an amendment, the invalidation of the many anti-abortion laws we have all advocated so strongly for in Louisiana remains a possibility. The Louisiana Conference of Catholic Bishops therefore enthusiastically supports the Love Life Amendment, and encourages all to approach this initiative with a formed conscience and a commitment to defend the sanctity of human life and uphold the dignity of all people.
(As reprinted from the bulletin of St. Francis de Sales Catheral in Houma, LA.)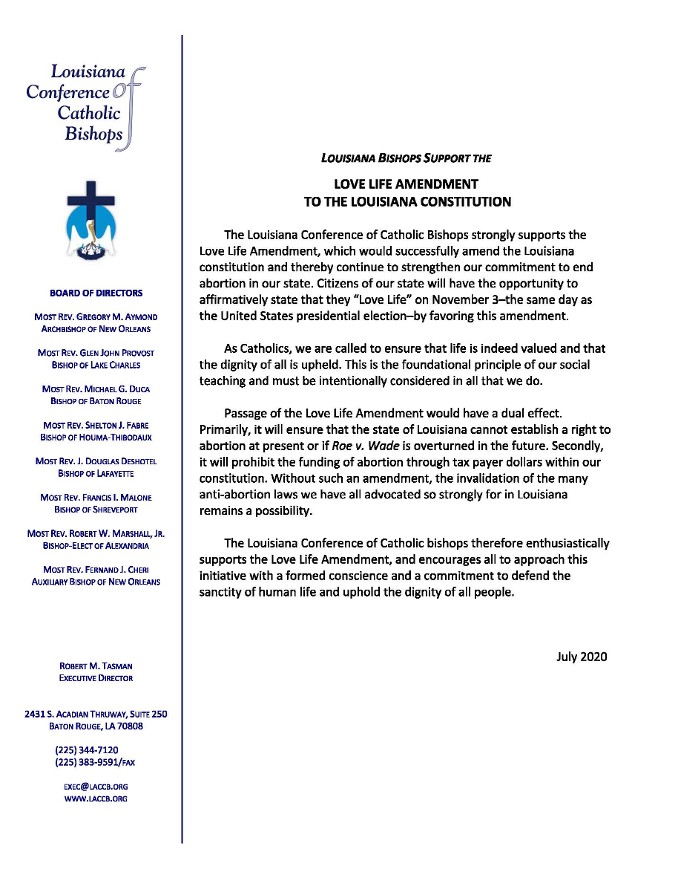 For much more on the amendment, click here.
FOR ALL INFORMATION, CLICK HERE.
There were major liturgical feast days that led up to this past election and the Louisiana vote for LIFE; whereby, the Mystical Body of Christ was called to work together in a special way:
November 1, 2020 - All Saints Day (Church Triumphant)
November 2, 2020 - All Souls Day (Church Suffering)
November 3, 2020 - Memorial of St. Martin de Porres (a member of the Church Trimphant with Election Day falling on his memorial day). That was not by accident!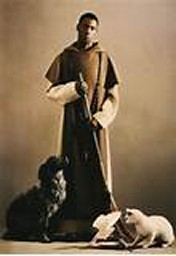 Read the life and trials of St. Martin de Porres, click here.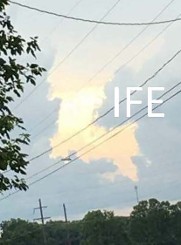 Received from unidentified sender, believed photographed in New Roads, Louisiana area in 2016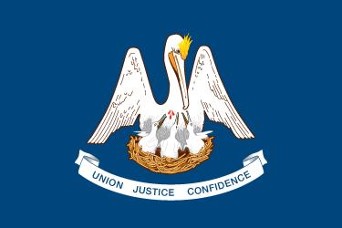 LOUISIANA!
THIS IS A "TIME OF TESTING AND ENDURANCE" FOR THE CHURCH! WE WERE IN "SACRAMENTAL EXILE" FOR MONTHS!
FIRST TEST = CORONAVIRUS!
SECOND TEST = NOVEMBER 3, 2020! A date to decide for Life or death! Louisiana passed that test with a score of 100%
FUTURE TESTS = UNKNOWN AND YET TO COME! We will choose our own destiny.
Please consider listing to this Paul Harvey You Tube presentation that can be freely found on the internet. It should speak loudly to each of us. To see it, please click here. His message is timeless!

SACRED HEART OF JESUS
PRAY FOR US!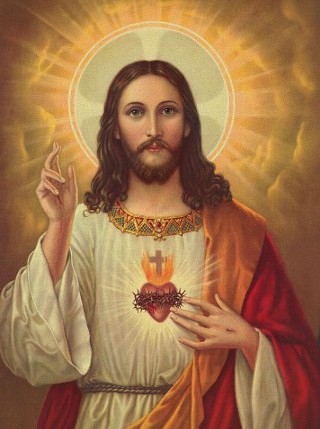 FRIDAY, JUNE 19TH WAS THE
SOLEMNITY OF THE SACRED HEART OF JESUS
Go to the legend above and visit the website page titled:
Louisiana - Holy Water Blessing
to see what began that day under the title of
OUR LADY OF AMERICA!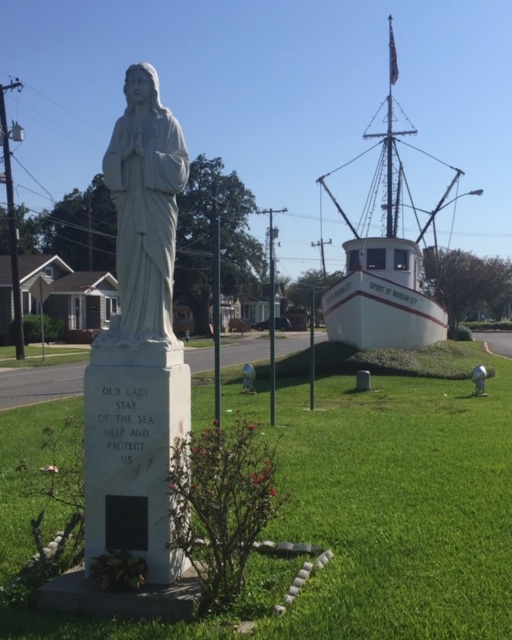 Our Lady, Star of the Sea in Morgan City, LA
To listen to Laura Huval from Cecilia, LA, as part of her "Praying with Music Series" sing "Star Upon the Ocean"...Maria, please click here!
LIKE THE APOSTLE IN THE STORM,
LIKE OUR LADY TELLS US,
HOLD ONTO JESUS!
STAY FOCUSED ON HIM IN THE MIDST OF THE STORMS! NOT THE WAVES!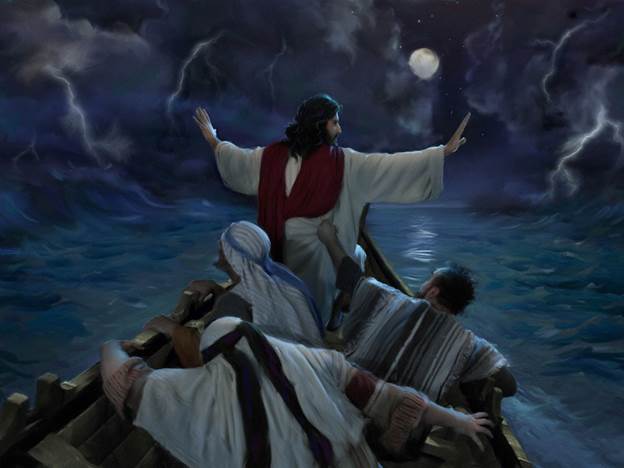 Assurance of God's Protection
Psalm 91: 1-16
He who dwells in the shelter of the Most High, who abides in the shadow of the Almighty, will say to the Lord, "My refuge and my fortress; my God, in whom I trust." For he will deliver you from the snare of the fowler and from the deadly pestilence; he will cover you with his pinions, and under his wings you will find refuge; his faithfulness is a shield and buckler. You will not fear the terror of the night, nor the arrow that flies by day, nor the pestilence that stalks in darkness, nor the destruction that wastes at noonday. A thousand may fall at your side, ten thousand at your right hand; but it will not come near you. You will only look with your eyes and see the recompense of the wicked. Because you have made the Lord your refuge, the Most High your habitation, no evil shall befall you, no scourge come near your tent. For he will give his angels charge of you to guard you in all your way. On their hands they will bear you up, lest you dash your foot against a stone. You will tread on the lion and the adder, the young lion and the serpent you will trample under foot. Because he cleaves to me in love, I will deliver him; I will protect him, because he knows my name. When he calls to me, I will answer him; I will be with him in trouble, I will rescue him and honor him. With long life I will satisfy him, and show him my salvation.