LOUISIANA FRONT PAGE
NEWS
To read the Louisiana event listing, click on the page titled:
"Louisiana Front Page Events"
+++++++++++
THIS IS A "TESTING TIME"!
OUR NATION HAS BEEN IN
"SACRAMENTAL EXILE"
FOR MONTHS!
WE NOW BEGINNING TO EXPERIENCE THE FRUIT OF THAT SACRAMENTAL EXILE! MINNEAPOLIS IS BUT THE FIRST FRUIT!
FIRST TEST = CORONAVIRUS
NEXT TEST = UNKNOWN
We are being tested as a country and individually. Please consider listing to this Paul Harvey You Tube presentation that can be freely found. It should speak loudly to each of us. To see that You Tube presentation, please click here. His message is timeless and it will get praying and thinking.
As Christians, must we now seriously consider whether...
we are focused on the wrong "corona" or crown!
Let us stay focused on these crowns as discussed here!
Wonderfully explained here!
To watch Archbishop Aymond bless the New Orleans area,

click here.
To address the bad fruit from the sacramental exile, we pray that our Louisiana Catholic Bishops will now more do what they have always had the power and authority to do, but did not...bring the sacramental exile to a safe end!
Unfortunately, much has been loss since March 16, 2020 that may take much more time regain, if ever for some of us older Catholics.
To a sojourner in time:
HIS HOLY DOOR
There is a place my friend,
Where only God resides,
It is a place of love and peace,
And truly worth the ride.
Journey with me my friend,
Journey to that place itself,
For at its end there is a face,
The face of Grace-Himself.
Die then sweet soul to yourself,
From your own self-made hell,
Instead journey to where He waits,
In the rising of the incense smell.
You'll meet yourself on the way,
Unworthy soul you'll be, and see,
The things you've said and done in time,
So bad! You'll beg to flee!
So, to and fro' the waves will toss,
But do not fear my friend,
It is in part His cross you bear,
That really draws you in.
But know well dear friend,
It is worth the fear,
For when you reach that place of grace,
You'll know that God is near.
A God that first loved you and called you forth,
Before your Mother's womb,
A God that now feeds and nurtures you,
To prepare your earthly tomb.
So make that journey soon dear soul,
Take that faithful step,
Alas! Knock on God's Door to Heaven my friend,
The Door of Holy Mass.
Commenced on: 02.21.2020 at TLM

© pm
LET US PRAY FOR "QUICK HELP" FROM OUR LADY OF PROMPT SUCCOR!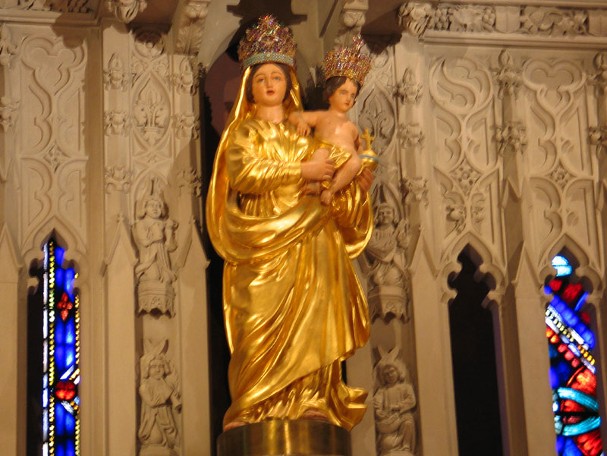 OUR LADY OF PROMPT SUCCOR SHRINE IN NEW ORLEANS
In Louisiana, in 2019, we saw the power of prayer in regard to storms, surges and a high river! This time let us turn the power of prayer toward this virus! To see what the Governor of Louisiana had to say in 2019 about the power of prayer, click here and scroll and read down the page.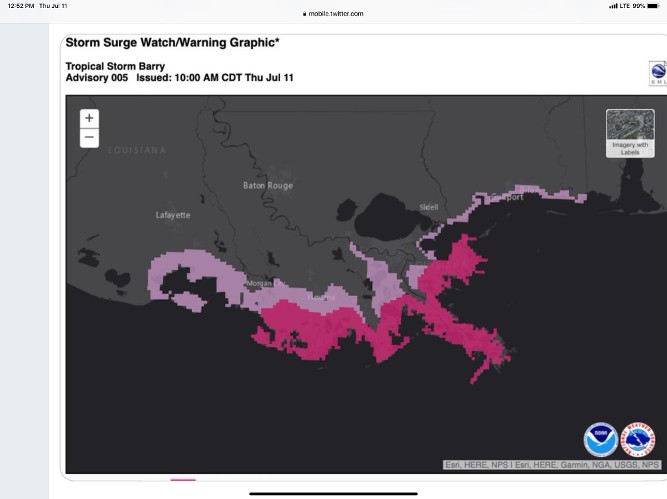 Just another form of the darkness. Let us pray that the The Light returns into the darkness.
On March 1, 2020, the readings for this First Sunday in Lent could not more clearly cite the real battle. Read them here.
ANOTHER NEED TO LIVE OUR FAITH AND DEMONSTRATE THE POWER OF GOD!
Please prayerfully consider contacting Governor Edwards in Baton Rouge and ask for something like the following:

Dear Governor Edwards:
Please prayerfully consider waiving the 10 person limit for Masses and church gatherings of prayer to fight the Coronavirus.
You could require that the gathering must have a identified master(s) of ceremony to assure that spacing distances will be complied with during the Mass/service.
This would be for all recognized church groups that have tax exempt status.
All individual prayer groups would not be waived of the limit.
Being a Man of God, we know you would recognize the power of this.
Much like you stated after Hurricane Barry, we could then better form a "hedge of prayer protection" around this State.
This is greatly needed.
If you are so inclined, you can email him by clicking here.
While waiting for the Bishops of Louisiana to do the right thing for the Church and contact our Governor to ask him to consider the public Mass as an essentual act (and therefore to allow for the reinstituting of the public Mass by waiving the 10 person limit at a public Mass), please pray Jesus, "Reverse the Curse" that was placed upon Louisiana, its land, its ordained clergy and its laity 150 to 200 years ago.
JESUS, REVERSE THE CURSE!
The breaking of the curse will begin to expose the truth in many areas of concern as well as clearly demonstrate how weak and flawed we really are in all way. This flawedness will soon be sincerely demonstrated in our leaders' decisions connected to the "Snake Virus".
ASK FOR THE INTERCESSION OF THE SAINTS, SUCH AS THESE TWO EXAMPLES!
ASK FOR THE INTERCESSION OF ST. MICHAEL THE ARCHANGEL, CLICK HERE FOR MORE ON HOW ST. MICHAEL INTERVENED IN THE PAST.
HAVE NEAUX FEAR WHEN MOVING INTO THE DARKNESS OF THE UNKNOWN.
LIKE THE APOSTLE IN THE STORM,
HOLD ONTO JESUS!
STAY FOCUSED ON HIM. NOT THE WAVES!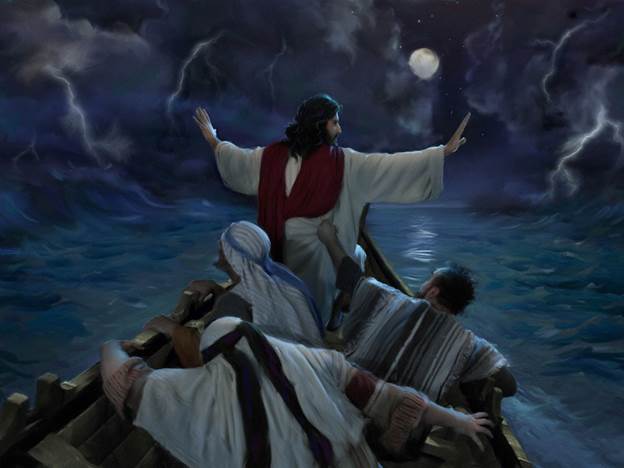 Assurance of God's Protection
Psalm 91: 1-16
He who dwells in the shelter of the Most High, who abides in the shadow of the Almighty, will say to the Lord, "My refuge and my fortress; my God, in whom I trust." For he will deliver you from the snare of the fowler and from the deadly pestilence; he will cover you with his pinions, and under his wings you will find refuge; his faithfulness is a shield and buckler. You will not fear the terror of the night, nor the arrow that flies by day, nor the pestilence that stalks in darkness, nor the destruction that wastes at noonday. A thousand may fall at your side, ten thousand at your right hand; but it will not come near you. You will only look with your eyes and see the recompense of the wicked. Because you have made the Lord your refuge, the Most High your habitation, no evil shall befall you, no scourge come near your tent. For he will give his angels charge of you to guard you in all your way. On their hands they will bear you up, lest you dash your foot against a stone. You will tread on the lion and the adder, the young lion and the serpent you will trample under foot. Because he cleaves to me in love, I will deliver him; I will protect him, because he knows my name. When he calls to me, I will answer him; I will be with him in trouble, I will rescue him and honor him. With long life I will satisfy him, and show him my salvation.
PLEASE SEND IN ANY PRAYER EVENTS DIRECTED AGAINST THE CORONAVIRUS. THEY WILL BE INCLUDED ON THE LOUISIANA FRONT PAGE EVENTS OF THIS WEBSITE.
Some possible acts of prayer that need to be done now:
Go to confession, immediately!
Then go to MASS and receive Communion!
In the absence of the availability of the MASS, go to Eucharistic Adoration!
Pray the rosary continuously during the day.
Do no succumb to the fear and panic that are characteristics of the "snake virus" !

Genesis Chapter 3 (USSCB)
14 Then the LORD God said to the snake: Because you have done this, cursed are you among all the animals, tame or wild; On your belly you shall crawl, and dust you shall eat all the days of your life.
15 I will put enmity between you and the woman, and between your offspring and hers; They will strike at your head, while you strike at their heel.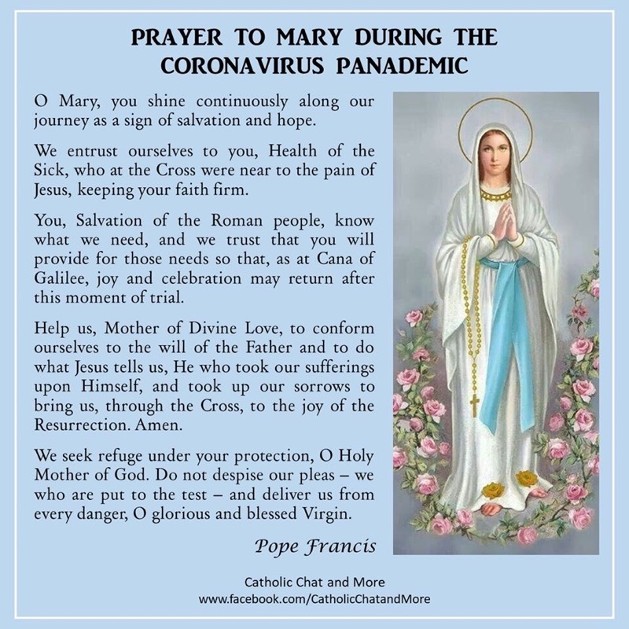 There are many ways to strike at the serpents head:
To read what Bishop Strickland is asking each priest to do outside of Mass, click here.
To listen to just one presentation of what Fr. Mark Goring has to say about it, click here.
++++++++++++++++++++++++++++++++++++++++++++++++
THIS WILL BE A LENT LIKE NO OTHER
Cannot travel as you wish? As an alternative, find a Catholic radio or television station near you to best meet your personal spiritual needs, if you discern you must.
There are pages on the legend of this website that will advise you about Catholic radio available across Louisiana!
As to television, remember the worldwide network who will be there for us when it counts most for:
THE WEEK(S) THAT CHANGED THE WORLD
ANOTHER CROWN TO FOCUS ON!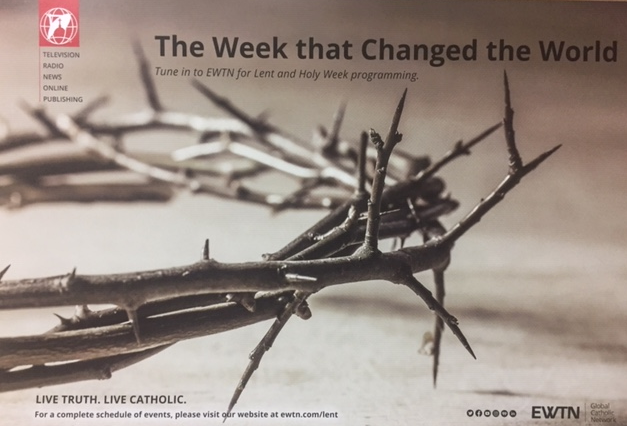 LIVE TRUTH, LIVE CATHOLIC
Louisiana and EWTN have always had a deep relationship.
Many Louisiana residents now live in the Hanceville area.
From Louisiana, let's unite with the network and its message in a big way!
To become a Media Missionary from Louisiana, click here.
or directly contact the South Regional Manager (that includes Louisiana):
Spencer Swope (Telephone:256-352-9842) (Email: sswope@ewtn.com)